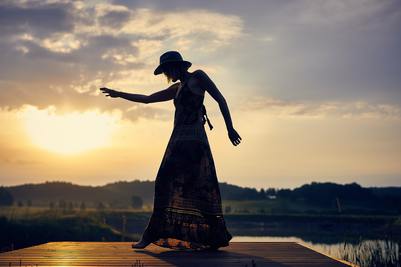 Dit is mindfulness uitgewerkt voor een vrouwenlichaam! 
Uit ervaring weet ik dat veel vrouwen hun ding niet vinden in de klassieke vorm van mindfulness. En toch is de skill op zich heel nuttig. In vorige artikels schreef ik hier al wat over:
Daarom heb ik een aangepaste versie van mindfulness gecreëerd waarin meer aandacht wordt gegeven aan het lichaam, lichaamsbewustzijn, de zintuigen en beweging. 
Tijdens deze crisis situatie kunnen we wel wat extra aandacht voor ons lichaam goed gebruiken, vooral mindvolle aandacht. Door hele dagen binnen te zitten of veel achter ons scherm of geen moment voor onszelf te hebben, verliezen we het contact met ons lichaam. Ons lichaam dat wellicht sowieso al in fight-flight modus is…  Bewegen is de perfecte remedie. Deze workshop is een combinatie van inzicht rond lifestyle en een stimulans om terug contact te maken met ons lichaam, onze zintuigen. 
"For integrated education it is best for u to combine three aspects of our being: cognitive understanding, which gives us intellectual underpinning, emotional resonance, which helps us acknowledge and integrate our feelings; and somatic learning, which connects us to our body's innate wisdom and creates permanent change." Michaela Boehm (The Wild Woman's Way)
Het lijkt contra-intuïtief om dit soort workshop online te doen maar laat je verrassen. 
Praktisch: 
Datum: Zaterdag 11 april van 14-16u 
Crisisprijs: 20€ (via overschrijving of PayPal)
Locatie: bij jouw thuis, online Via ZOOM (app op je mobiel of via browser op je desktop). Ik stuur de link. 
Mogelijke neveneffecten:  
Inner peace

Groter lichaamsbewustzijn

Een mindvolle relatie met je lichaam
Beter aanvoelen en aangeven van grenzen
Minder uitputting
Bewuster omgaan met energie
Gezondere keuzes
Becoming alive to the signals of the body (embodiment)
Mindfulness heeft een belangrijke plaats gevonden in de geneeskunde en psychologie. Tal van studies tonen de waarde ervan aan.
Mindfulness leert ons om te gaan met de uitdagingen van het dagelijkse leven. De basis is om met zachte, verfijnde aandacht te leven en respect te cultiveren voor wat je nu kunt en wie je nu bent en wat zich nu aanbiedt. Op die manier wordt men niet meer overweldigd door onplezierige gevoelens of gedachten en kan men met waardigheid en respect, antwoorden op uitdagende situaties.
Het betekent 'open zijn voor' en 'ontspannen in' de realiteit van het moment. Op deze manier cultiveren we zowel inzicht als zachtmoedigheid.
Mindfulness helpt ons ieder moment van ons leven volledig te leven, ook de meest moeilijke. Er is dus niets mystiek of geheim aan. We geven aandacht aan het enige moment dat we hebben, het huidige moment.
let's talk over a cup of coffee