I like to be transparent about who I am, so you know why I do what I do and it might also explain some of the unconventional choices I have made in my life. This page is my personal all-in story. 
My full name is Winnie Winters – °1974 – integral thinker & dancer – renaissance soul – living with intention – multi-passionate – conscious connector – positive psychologist – openminded – observer – reflective – ecclectic – studious – enthousiastic entertainer – sensual – seeker – changemaker – lover of life & freedom – cosmopolitan  – following flow – and work in progress 
I like variation and that shows up in practically every area of my life. I don't like to limit myself to one 'way': one language, one culture, one kind of dance, one sport, one vision on self-development, one kind of therapy. I am a generalist, as they say, and I believe that the magic is in the mix. So it is my passion to explore the diversity of life and my challenge to integrate and connect without getting overwhelmed by the multitude. Also my own offerings keep growing and evolving. I have initiated several projects:  Latin Vibez, FeelAlive, Zin&Zen , WeLoveDance. The current one is The Rebody Project. 
But I also like to find similarities, the common ground. There is a common thread, a theme troughout all the projects. I believe we are here to serve the world, to contribute in one way or another to a healthier version of it by finding our ALL-IN: the synthesis of what triggers us, what lights us up, our passions, our qualities, what the world needs, and what we have experience in (my own version of IKIGAI). 
For me LIFE is a play of polarities. The magic is in the mix: 
variety & sameness, differences & likeness, nuance & unity.
In my work this is the magic tool that I use to create breaktrough. 
"Don't ask what the world needs, rather ask what makes you come alive and go do it. Cause what the world needs, is people who have come alive" -Howard Thurman-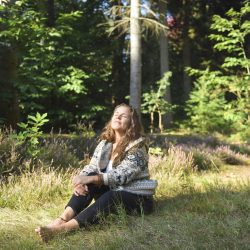 The forest, the sea, 
The sun, the moon 
Dance
Transpersonal stuff
A deep conversation
Rituals & travel
Bonfire
A coffee date
A good kiss 
Finding new ways 
Putting things in perspective
Making serious subjects fun
Understanding all points of view
Embodied delivery
Neutrality
Creative and crazy thinking
Not taking things too personally 
Moments of connection to what really matters and real connection between people,  when we feel our shared humanity
I am disheartend by all kinds of unhappiness:  loneliness, depression, stress, burnout, fear  but what triggers me most of all is: intolerance, incomprehension
I believe this world needs love and understanding more than anything. A healthier version of this planet, starts with a healthier version of each us & our leaders.
Happy people-happy planet
prof experience in a nutshell
PhD research 
 wellness at work, stress, hyperventilation, psychosomatic symptoms
Therapist, life coach 
stress, burnout, happiness
Trainer 
integral meta-theory, mindfulness, stress management, non-violent communication, core quadrants, polarity wisdom
Dance teacher – event organiser 
Latin dances, African dances, yoga, dancefitness 
I am as much an integralist in my dancing as in my study life 😉 
Salsa (all styles, all counts) 
Dancer in Mike-O dance company

Dancer in NuYorican Dance company

Co-founder and teacher of Latin Vibez with Didier Ukanda. 

Teaching and performing together for several years (LA-style, on 1, 2)

Teaching Cuban salsa and Rueda de Casino with different partners
Traditional Afro dances (with percussion djembé, sabar)
West-African dances
Afrocontemporary
Traditional Afrocuban dances (where Latin and Afro meet)
Dancer, singer in El Bataclàn: an Afrocuban folklore group. We cover t

he whole spectrum: from yoruba orishas dance, makuta, palo but also rumba etc… 

They particularly inspire me because of the embodied experience of male and female archetypes and symbolism.
Other Afro-inspired dances

solo dances: afrovibes, afroheat, afrohouse, kuduro

couple dances: kizomba, semba

Capoeira, samba, afrobrazilian
Dance fitness (teaching and organising classes for more than 12y)
Zumba / dancefit 

Zumba Gold / dance for seniors 

Zumba for kids

Zumba Toning 

G-dance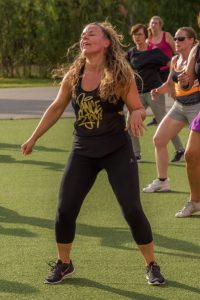 Intuïtive / conscious / therapeutic dances 

Dansmetamorphosis/authentic movement (2y) : training and performances 

Dancetherapy (4y) 

Silvestre technique (several retreats)
5rhythms
B

iodanza, t

antra dance, 

o

pen floor, t

rance dance, y

ogic dance

Extatic dance




Body Groove 
My current understanding of the world is trough the lens of integralism (in sum: there is more than one truth, everyone is at least partially right, there is a difference between relative and absolute truth, it's about "&" , not "either, or")  
There  I have always been very interested in filosophies, wisdom traditions, psychology, in other words: self growth and consciousness development, both from western and eastern traditions.  I had the privilige to study all of this, read many books and follow a lot of trainings and workshops. Sometimes people ask when when I will be done.  This question amuses me. Why would I ever want to be done? I do it because I love it. I love to read, find out about other ways of thinking, broaden my perspective …. realizing, at the same time, that knowledge means nothing without aligned action.  The more I read , the more I get a felt sense of the relative nature of truth. 
Academic curriculum
Latin and Math in high school (6y)
Master's in Psychology (5y)
PhD in Psychology (4y)
Integrative therapy (4y) 
Transpersonal therapy (1y) 
Mindfulness therapy (1y)
Creative/Art therapy (DANCE) (4y) 
Family constellations (1y)
Attention/awarenesstherapy (1y) 
Other studies and interests 
Integral meta-theory
Full-body mindfulness
Embodiment techniques 
Prana Vinyasa Yoga Teacher Training
The functional approach to yoga 
Polarity Wisdom 
Core quadrants
Non-violent communication 
let's talk over a cup of coffee