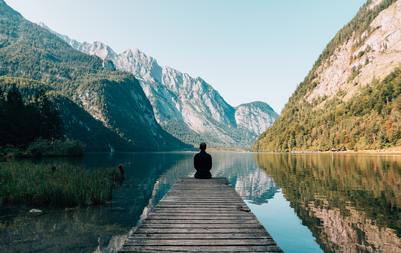 Over de mind valt veel te zeggen. De mind is zowat de boeman geworden van vele alternatieve manieren van denken: 'let go of the mind', 'mind cannot solve any problems'. En toch lijkt Mindfulness net te suggereren dat we er 'ful' van moeten geraken. Wat is het nu eigenlijk?
Ik denk dat we goed moeten afstemmen wat we onder MIND juist verstaan. In spirituele middens verstaat men onder mind vooral het onbewuste gedeelte van de geest. Als kind heb je een bepaalde ervaring die je niet volledig kon beleven. Deze wordt een lading die heel labiel is, een soort onbewust programma en verschillende programma's samen wordt de onbewuste mind genoemd. Deze moet kalmeren, pas dan kan je het leven (be)leven. Dit komt overeen met de onbewuste overlevingsmechanismen in termen van PRI bijvoorbeeld (Past Realitiy Integration, Ingeborg Bosch).
Binnen de integrale psychologie daarentegen, spreken we over mind, body en spirit als drie belangrijke aspecten van de mens voor een gelukkig leven. Mind heeft hier de globalere betekenis van alles wat zich intern in ons afspeelt, het bewustzijn etc…Je zou kunnen zeggen, dat de mind, het denken eigenlijk een zintuiglijke ervaring is, een tool, één van de 6 zintuigen. Maar we hebben het naar zo een hoge status verheven dat we ons identificeren met onze gedachten. En dat is de oorzaak van veel lijden.
"We are so immersed in thought that trying to explain thought as a sense is like talking to a fish about water… what water?"
Als we meer in detail kijken, zeggen de hedendaagse psychologie en de spiritualiteit dus eigenlijk hetzelfde: er is niks mis met de mind op zich, integendeel we hebben hem nodig als instrument, maar we zoeken bevrijding van de activiteiten van de onbewuste mind en de overdreven identificatie met de inhoud van onze mind. Het is dus niet de bedoeling om de mind als vijand te hebben. Als we de mind blijven als boeman zien of kennis als iets minderwaardig, dan heeft dat gevolgen voor ons onderscheidingsvermogen, heldere beslissingen, intuïtie etc…. De mind is een waardevol instrument dus hem beter leren kennen is de boodschap, ons instrument kalibreren zodat we een heldere mind krijgen en dat doen we o.a. via MINDFULNESS.
Mindfulness staat vooral bekend als een mechanisme om stress te hanteren. Dit is inderdaad een grote verdienste van Mindfulness maar Mindfulness heeft eigenlijk twéé belangrijke aspecten, nl inzicht (meer ruimte en helderheid in je mind) & zachtmoedigheid (het ontwikkelen van een mildheid en vriendelijkheid naar jezelf en anderen). In die zin is het sowieso al een cursus voor MIND & HART en zit  heartfulness ook in het pakket. Je leert meer van ieder moment genieten en dat is sowieso met je hele wezen!
Het is nodig dat je van het eiland afgaat om het eiland te zien. We zien onszelf niet als we geen afstand nemen van onszelf –José Saramago-
Mindfulness helpt je van het eiland afgaan. Je leert eigenlijk je geest door en door kennen: je ziet je gewoontepatronen, je automatische reacties, gedachten en gevoelens en leert hiervan loskomen. Zelfs die dingen waarvan je denkt dat je ze nooit kan afleren leer je vanop een afstand en vooral mild en zonder oordeel bekijken. Je ontwikkelt een getuige-vermogen. Zo krijg je meer ruimte en vrijheid om nieuwe keuzes te maken en dat is een fantastisch gevoel, de controle vanbinnen ipv vanbuiten!
let's talk over a cup of coffee